Whole Wheat Chocolate Marbled Banana Bread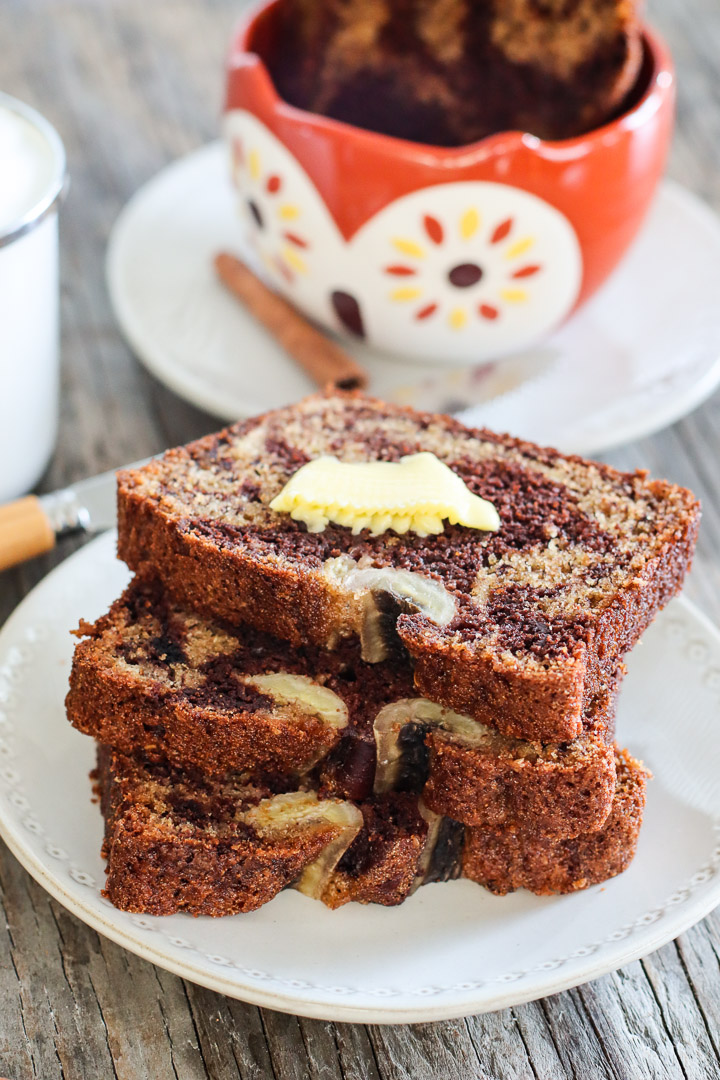 Author:
Welcome2OurTable.com
7 ounces (1.5 slightly rounded cups) whole wheat flour
1 Tablespoon Flax meal
1 teaspoon baking soda
¼ teaspoon cinnamon
¼ teaspoon salt
¾ cup sugar
2 eggs
½ cup oil (I use a mild olive oil)
3 Ripe bananas, plus 1 more for garnish
2-3 Tablespoons Sour Cream or plain yogurt
1 teaspoon vanilla extract
¼ cup Dutch-process cocoa powder (you can use regular cocoa powder, it just won't be as dark)
¼ cup boiling water
Preheat oven to 350 F.
Spray a loaf pan with oil spray or butter. Line with a strip of parchment paper.
Combine the flour, flax meal, baking soda, cinnamon, and salt.
In a mixer bowl with a paddle attachment beat together the sugar and eggs for about 10 minutes or until thick and pale yellow.
Set the speed to low and gradually add the oil. Add bananas, sour cream and vanilla. If you want to avoid chunks of banana in your bread, mash or blitz in a blender/food processor into a smooth puree before adding to the egg mixture.
Fold in the flour mixture with a spatula until incorporated.
Place one-third of the batter into another bowl.
In a small bowl combine the cocoa powder and boiling water. Stir into the reserved one-third batter.
Spoon the batter into the loaf pan, alternating between the white and chocolate batters. Begin with white and end with the chocolate batter. Using a butter knife, run it in a swirling motion to marble the batters. Do not over-swirl to maintain a marble pattern.
Cut the reserved banana, unpeeled, in half lengthwise. Remove the peel and place the banana cut side up, gently on top of the bread.
Bake for about 40 minutes. Cover with foil and bake for an additional 15-20 minutes or until a wooden toothpick comes out clean.
Cool the loaf in the pan for about 15 minutes before unmolding on a wire rack to cool completely.
For Gluten-free version: 2 ounces rice flour, 1½ ounce buckwheat or teff flour, 2 ounces sorghum flour, and 1½ ounce tapioca flour.
Recipe by
Welcome 2 Our Table
at https://www.welcome2ourtable.com/whole-wheat-chocolate-marbled-banana-bread/